I am soooo getting a tattoo this summer. 
A Stoner's Sad Haiku
Trees are meant to burn, As hearts are to be broken. O, the bridges we cross.
I'M GOING FUCKING CRAZY.
"on this occasion, there are a couple of things we know that we've pulled from..."
"We weep over old Korea, a victim, not so much of political agencies, as of the..."
– Gale ends his book with this passage and a poem from Kim Yun-Sik (1972), pp. 319-20.
woop da doop dee doop
guess what! you're all freaks! and i hate you :) ra ra ra ra ra meeeeeep
It's been a long time,
But I've been busy and lost-minded the way it is in a dream, all fast and loose and happy and sad and this and that like a Faulkner novel but I'm waking up. I'm slowly waking up. Within the dream itself, I'm realizing that I'm living in a dream and that this life of mine here and now is crazy and great and fun and comfortable and perfect and I don't want to wake...
Considering the future
It's about that time again. I've only about two more months left in Seoul. I have to start picking classes for back home next week, and it's a reminder of how much the future is freaking me out. Planning out what to do with the time I have left, as well as the things I have to do. I have to figure out my whole citizenship status with the embassy to ensure my coming back or not...
So let's start with midterms.
Because they're over and thank 신라!!! Baha…ha… I'm a nerd. So who the fuck gets fucking trashed on the Monday of midterms week and screams like dicks till 5:00 in the morning??? Oh yeah, these new dumb fuck int'l kids who are just retard-iculous. Like, okay, I understand there were Koreans at the pond drunk and shoutin' till late in the night too, but it...
Lamborghini cigarettes.
Sorry for the lack of updates recently. Haven't had toooo much going on. The feel of this semester has been a lot different than last semester. A lot of the fall was just party, party, party, drink, drink, drink, fun, fun, fun, play, play, play. But all those people who made party, drink, fun, play so enjoyable are gone now and the new kids just don't stack up really. So I've...
DOIN' A FIA (miss youuu)
Five or so weeks into the semester and this is my sum-up of the new exchange students. Emre Yilmaz is from Sweden, and he knows Sharmila and Dahlak from last semester. He's nice! Mila and Dahlak told me about him before they went back, saying that he was cool and I should hang out with him and blah blah blah, and he is cool. He's pretty funny though, and pretty easy to talk to, I...
Things I hate:
Being treated like a child Being treated like I'm stupid Being told what to do
S Cafe opened today!!!
Finally, a place to be on campus that isn't my dorm room! Not that I spend much time in my dorm anymore anyway lol, recently I've pretty much been living at Seunghee's place at back gate. I've gotten so tired of my dorm after not leaving it at all over the break, and after not living in the dorms back in SF, it's way more comfortable living outside in an apartment or...
한국여행갔다오고
My Korean language program ended a while ago, on 17 Feb. and I immediately went to go meet my dad at the airport. For the next ten or so days I've been traveling around Korea with my parents. Went to Jeonju, Gunsan, Impi, Yeosu, and Namhae — pretty much all around Jeolla-do, the province where my family is from. I met family on both sides, some I'd met and some I'd...
So I have this nasty habit
of screwing things up when their peaking. So back up: Growing up, I was always taught to do the good thing. The good thing, as in, like, the ideal thing. What would Jesus do? and that type of shit. Even if telling the truth will get you into more trouble, telling the truth is always better than lying. Well, what a crock of shit that is. So my entire life I've spent honing this sort...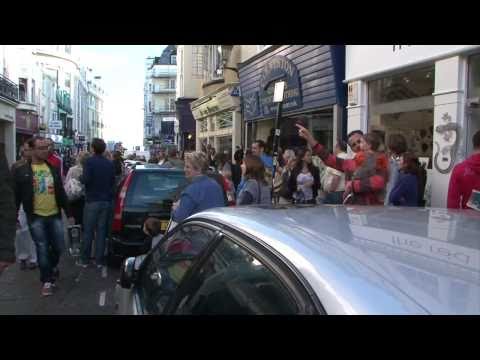 A Tribe Called Quest's "We Can Get Down" to "Oh My...
Tim Chu's 5-year plan
Finish off remaining semester in Korea, play/work for a month or so afterwards and return to America sometime in June. Once back in the States, play in San Diego for about a month as I figure out my whole living situation back in San Francisco. Return to the Bay and finish off remaining semesters (2-3 dear God, please no more than that), graduate, get a bartender's license over the summer...
I don't mean to offend anyone so if racist things...
hongshiriya: but Read More HAHAHAHA THAT'S AWESOME.
Tim 찬양, 참치
sopdoppeldanger: Tim, I miss you too… I miss our late movie nights where I always fell asleep (I'm sorry… LOL).  Our pooping conversations and fiber-goods transactions…  And to comment on your correlation between Fruit Ninja and fecal matter: LMAO.  HAHA.  For me, it's "Bakery Story" or "Scramble with Friends."  Do you have "Scramble with Friends?"  If you don't, GET IT NOW.  WE PLAY. The...
Seriously, where the fuck is my pen.
I can't do my homework/study without it. I mean, I can. I do have other pens, but I've totally fallen in love with this pen and I don't know what happened to it but it MUST be in my room somewhere. I mean, it's not like I really go anywhere else. I haven't left the campus in like two weeks. WHERE IS MY PEN. Okay, it's definite: I'm turning into a crazy...
I wonder what the security guards downstairs think...
Especially at night time, while I'm studying till like 4 in the morning. I go down about every hour, hour and a half. I try to keep my last one at like 3 in the morning, but still. I wonder if they think I'm weird because they see me leaving and entering so often. I wonder what my roommates think too, since the door open and closes so often at night. Whatever, I don't care about...
Pooping Matters
sopdoppeldanger: If you poop at work, you're technically getting paid to poop! Awesome. I unfortunately am at home. I have gone to the bathroom more than 15 times today. For half of those trips, I had bowel movements. This is probably TMI but I don't care… I love shitting. Although, I get hungry afterwards so going to the bathroom every 30 minutes isn't fun when you stuff your face...
기적 기대하구나
Thanks for pointing it out for me, and you're right. I'm holding myself to some huge ass expectations, and it's getting in my way. I think it probably explains why I don't take too well to criticism. My standards for myself are bloody fuckin' high, so whenever I get it wrong I just get fed up, frustrated, and very, very disappointed in myself. This is something that...
My Korean Blood
Despite what people might say about Barack Obama and a post-racist America, I grew up in a country where I was mocked and teased for the color of my skin, the shape of my eyes, my proficiency at math, my inability to drive, and, let's not forget, the size of my penis; I grew up in a country where the smells coming from my home were the butt of jokes, and the food I ate, the culture I came...
The Korean Language
I came to Korea with the aim of becoming as fluent (or close to fluent) as possible. I should remember that I'd decided "as close to fluent" as an adequate aim. Because in all honesty I am very, very frustrated. The Korean language is complicated, with more words for yellow than Crayola could ever come up with. Unlike English, Korean is not a flexible language. Unlike Korean,...
부분
Essentially, I was tired of having three blogs to manage so I created a new one in which all three would be consolidated (save I have to start all over, which is fine, because starting over is a blessed opportunity — and I should always remember that).